So I was supposed to make this post last week but I fell ill. I'm still a little ill but I now have energy at least. I was also able to go shopping and not die, which is good. I'm still trying to avoid really strenuous exercise but I can work again at least. I can write too. Speaking of writing it's time for an update on how much I wrote last month.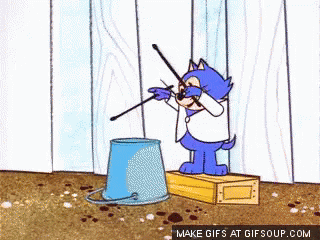 Man I love Top Cat
It is my sad duty to report that I have written not a word in The Spirit since January. I didn't write anything in there in February and I still haven't at the halfway point of March. Unfortunately my freelance writing business really took off. I don't think I should say unfortunately considering that I'm making some money now. But it is unfortunate in that I just don't have the time or the energy to write both articles and stories. When I first started out article writing I was writing for a few hours a day perhaps. There was plenty of time to do both.
Now because I can be hired at any moment and I get hired so much I end up writing for anywhere between four and eight hours a day. One time I was writing right up until I fell asleep. Having to stop taking on new orders to take care of the ones I've already got is becoming a surprisingly common occurrence now. So the fact is, right now, I just don't think I can write books.
I'll be honest and say it's a very depressing realisation. Writing stories was something I really enjoyed and was pretty good at. That's why I tried to get into voice work too. Working with my voice would leave me with ample energy for writing. But that never really took off like the writing did.
I'll let you know if there is any change but for now it seems like writing books just isn't something I can do at the minute. I have to go with where the money is and my books have never sold that well. If they somehow pick up and I get some nice royalty checks from them then that's where I'll go instead. If it was financially feasible then I'd stop writing articles and pour that four to eight hours of writing into books. I'd have a book done every few months at that rate. That'd be nice. But it's just not meant to be right now.
It's a shame. As evidenced by the fact I won't shut the hell up about it. But I will now.