Why not change what language I use as the number for the update? This month the number is "san", which is the Japanese word for "three". There you go, you've learned something. I am a kind and merciful God after all. Well anyway you aren't here to learn Japanese; you're here to see how I'm progressing with Immortal Space. It's the first Monday of the month after all.
Ba dum tsh!
First off don't expect the number to be too high this month. Last month I got a large writing job that took a whole week for me to do, and that meant no Immortal Space writing. I'm sorry about that but at the minute I'm desperate for money so I'll take short term writing work over the long term writing of Immortal Space. I also had to deal with larger chapters that were the length of several chapters. Thankfully I also had to deal with smaller chapters so hopefully the number is good. Well, let's see.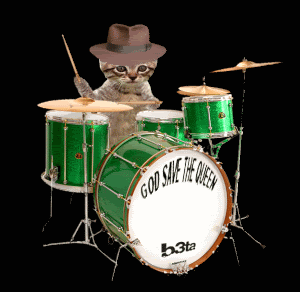 Gimme a drumroll kitty
Immortal Space currently stands at 25 chapters written and 81180 words, including the title page and contents. That is 7 chapters written, which doesn't sound good, until I also say that it's close to 30k
words
written, which is about 13-15 regular chapters. Which isn't bad at all considering I didn't write for a whole week. I'm also now officially past the half way point! Wheee! In terms of chapters at least. I have plans for 49 chapters. When you take in to account some are longer than others, and some are shorter, I can no longer give a safe word count guesstimate.
Also Firefox recognises "Guesstimate" as a real word. Go figure.