Thanks to the article writing job I now have I've written about 100 articles or so since I started way back when. It feels like forever ago. I've done things with a lot of different variety though and some of it is pretty fun. One of the things I write a lot in the articles for my job is sales pitches.
That's certainly what I aim to do.
I've quickly discovered something I didn't really know about myself; I am a god damn masterful salesmen when I want to be. I can make a lot of things sound awesome and reliable. I've shown it a couple of times here on the blog too but never really to such a degree that I think "I'm pretty good at this." Because, well, yeah I'm pretty good at this.
It is my hope now that when the time comes to sell my own work I can use these skills to do that; to make what I have to offer out to be as good as it is. That's one big problem I have when it comes to selling myself and it's a problem we all have with selling ourselves; Confidence.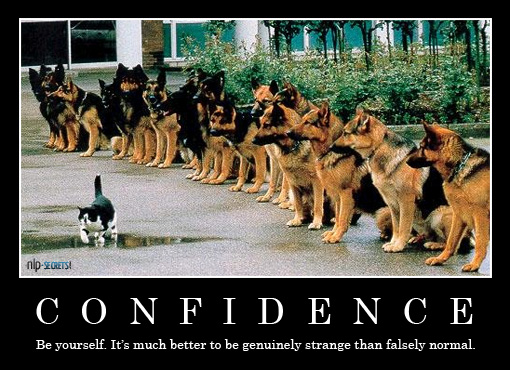 That is one confident kitty
It's easy to sell something you don't really know about because there's nothing in the back of your head saying it's not as good as you think it is. You don't know that. But if you try to sell yourself then there's probably going to be those thoughts. You have to push those aside and remember that if it's something you made using a skill you're good at then there's a damn good chance what you made is good. Because you, yourself, are good.
Do you have the confidence to sell yourself well?