I realise I've been angry in my latest posts, and unfortunately that trend is actually about to continue. If you've been keeping track of the news then you're aware of something that is truly shocking and yet, at the same time, not very shocking at all.
Americans, your government is watching you. It is listening to you. It knows you're here right now. The last time you called your mum they were listening to you. At first the report said that it was only Verizon customers but it's now pretty much accepted it was every American. They are viewing your internet history. They have access to everything you say or do using Google and Facebook. Straight from The Guardian, who uncovered all this;
"The NSA access is part of a previously undisclosed program called PRISM, which allows them to collect material including search history, the content of emails, file transfers and live chats, the document says."
The NSA is the National Security Agency. They're the people in charge of, well, national security. Stopping the terrorists and what have you. They seem to think that this gives them the right to look at absolutely everything you do. Do NOT believe any lie your government throws at you. Don't believe any lie that the NSA throws at you. Don't buy the "it's only meta-data" line. That "meta-data" is your personal and private lives. This kind of stuff does not stop terrorists. It breaches your entire right to privacy.
If you're the kind of person who would allow the government to spy on you and listen in on your phone conversations then I really feel sorry for you. This is wrong on so many levels and most of all it's both unconstitutional and illegal. It's illegal to tap a phone like this without a warrant and Obama himself promised to end unwarranted phone tapping.
Then again he also promised to close Gitmo and look how well that turned out. I really genuinely hope this is the last straw. The government lies to you, they watch you, and they really don't care. It's time you stopped caring about them.
I'm sorry to be so bitchy and angry but this kinda stuff really pisses me off and inactivity over it only angers me more.
A look at when each service began giving the NSA your information. This has been happening since '07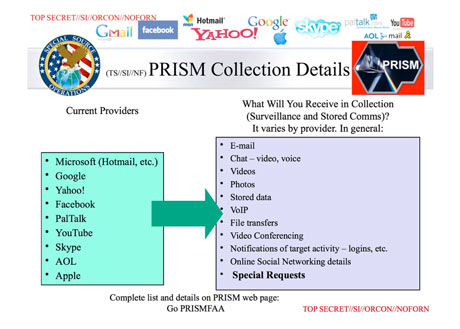 This is a list of the services and what they generally give. Not included in this list is telecomms providers