What's rare is that this post is coming to you live on a Monday morning. My dad wanted me to get up early in case he needed me to push his car, which has had trouble starting lately (it's hopefully getting fixed today), but it turned out he didn't need my help. I don't mind really, I wanted to get up earlier. I just wish I'd gotten to sleep earlier last night. My stuffy nose is back in full force, and not even hay fever tablets can stop it. I think it might be a proper cold this time. I wonder if it's possible to OD on hay fever medicine. I take stuff that's so strong, and good, you can only take it once a day. The tablet is tiny too. So I don't buy that you only need one a day, but it really does do it's job for the most part. I'm also seriously considering a doctor about my cough. What this actually means though is that it could still be a few weeks yet until I actually go. If I have a cough for a month, then surely there must actually be something wrong with me. Anyway, that's enough craptacular crap about my crappy life, I'm here to live in the past and tell you what I wrote last week.
Tuesday
was a nice bit on if I am in love with anyone, and what my answer to that question will always be. They say that you will know when it's love, but when you've "known" it so many times, you can't trust what anyone, even your own brain, tells you.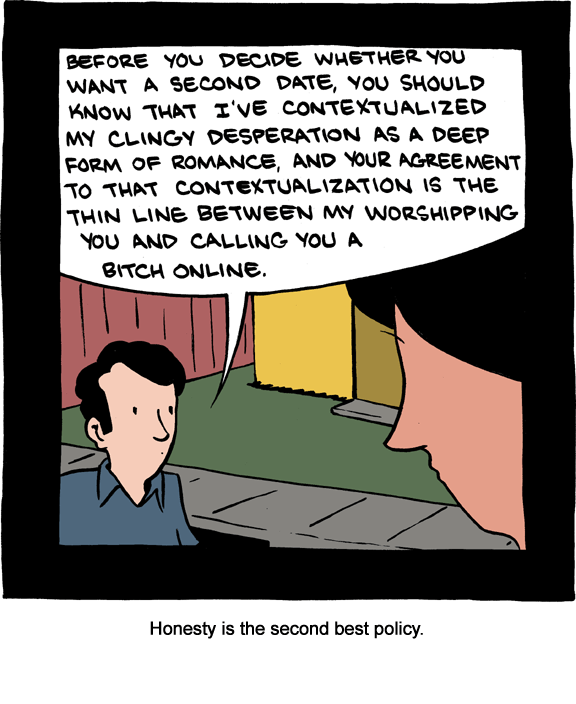 Don't you hate it when a comic sums you up in one panel?
Wednesday I shared a story about how my cat made me oversleep (the main reason that I didn't get up early again until today, and was sleeping late, it threw my sleeping pattern out of order) and then answered the questions of my dream date, if I've ever done something bad and gotten away with it, something I have to forgive myself for, and something I have to forgive other people for.
Thursday was my latest podcast in which I waxed controversial. I ranted for what seemed like forever on my views on gay marriage, religion, politics, drugs, and alcohol. Spoiler alert, I spent the longest time on gay marriage. It's kind of funny in a way that I called it "My Views On..." because that's really what this blog used to be. It was my views on things, and somehow or another, I forgot that, or ran out of things I have a view point on.
Friday I answered the questions of what I get complimented on the most, and what I get complimented on the least. The original answer to the first one was actually one sentence. Then I stopped being emo and expanded on it. Plus someone called me good looking. Yes I'll mention that every chance I get. It never happens. Ever.
Saturday I finally got back to writing Immortal Space. I got a comment about how I basically skipped the fighting practice and my response is that we already got an example of Trent's fighting style when he was fighting in the cage matches. I didn't want to over-saturate the fighting, and it's not that uncommon to just skip over boring bits by saying things like "Some time later". Though I do hate being common.
Sunday was just a simple video day. There was a whole week of wrestling condensed to four minutes, and Twilight condensed in to (slightly longer) than five seconds. Five seconds of Twilight is more than enough. Though I suppose it depends on which five seconds. Though it has been so long since I read it I've forgotten why it's so bad (well I know why but I can't really back it up with personal experience anymore) and part of me is tempted to re-read them, just to re-experience the bad. Yes, I do feel shame. No, I really don't ever feel shame.
Anyway (I think I say things like "anyway" enough times to have a drinking game by now) I think that's enough from me. I'm looking forward to a (hopefully) good week. It's the birthday of the niece who actually likes me this Sunday. So now the only girl in the world who shows me any kind of affection will be five years old. That's slightly better, I think. It was the birthday of another niece yesterday, and she certainly seemed quite happy about what she got, so that's good. If I have kids I don't think I'll actually celebrate their birthdays until about their third one, when they can understand what's happening. It's why I don't get the huge fuss over "first Christmas's" and what not. They're not going to remember, and chances are that they aren't going to understand. This is one of the many ways I would fail as a parent.