Seeing as Breaking Dawn is coming out, and Hazel recently did a post about how Twilight should have ended, I thought today I would share some more pictures with you, this time from my Twilight collection. Sorry if they don't fit the post, I have trouble with that, I'm used to Blogger automatically resizing them if they're too big and allowing you to click them to see the bigger picture. Anyway, if you are a hardcore Twilight fan (see ANY Twilight fan, okay not all of you are bad) then I recommend looking away now. Remember, I have read the books, and I am free to badmouth them because of this, my sister who is a huge Twilight fan has agreed this with me. Anyway, on with the show!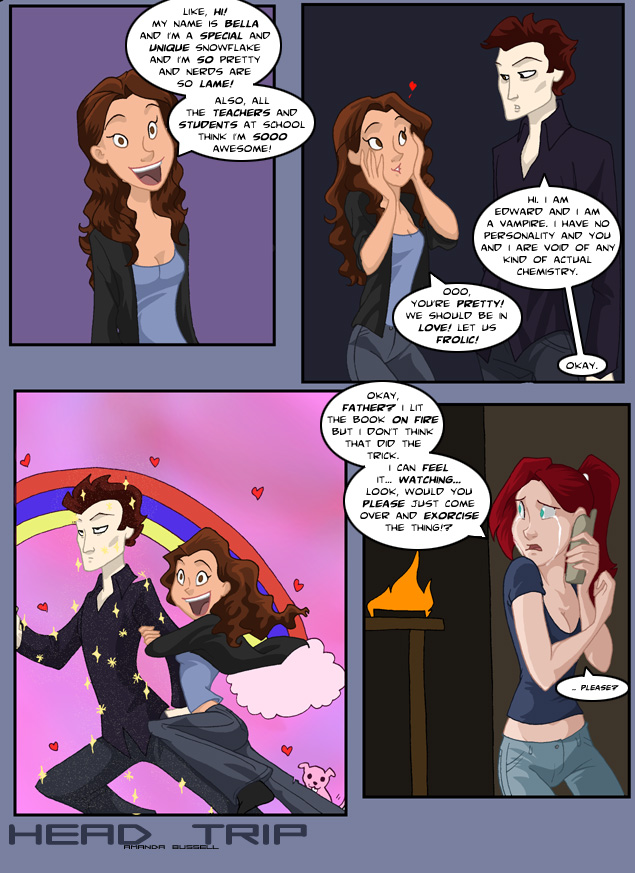 Courtesy of headtrip.keenspot.com I know this is might be too small, but there was only one setting higher, and it made it take up too much room and you couldn't read it.
Sadly this was the only resolution I could get this in. Again, courtesy of Head Trip.
Probably one of the least funny but meh at least it's tame.
I actually had to scour the net for these because I seem to have lost my folder on my computer with Twilight pictures on -_-. Relax though they were this, satirical/just taking the piss kind. I don't have actual Twilight pictures on my computer.