So it turns out I only had to put it off for a day lol, so enjoy this Mario post you should have been reading yesterday. Before I do start this, I want to say that you shouldn't take this post totally seriously, it's part joke, part slightly serious. Okay then, let's see what I can do. Also most of this is of my own devising.
Pros:
1. It teaches chivalry.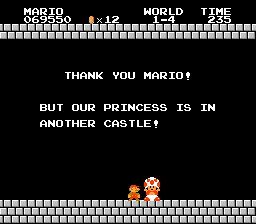 Mario has the biggest blue balls in history
Mario essentially goes from world to world, castle to castle, in an attempt to save the Princess Peach. Also known as Princess Toadstool or whatever the hell they were calling her that day. When he finds out she's not in that castle, he just moves on to another and takes down anything in his way. In the cartoons as well the main thing he did seemed to be saving Peach. Plus he doesn't ever seem to get lucky with her, so it's not like he's doing it just to get into her pants.
Or maybe he is. It's not shown in the games at least. But the less said about "fan-art" and fanfiction the better really.
2. It teaches you to eat healthy
Now in Minecraft form!
This game teaches you that essentially, all you need to do grow big and strong is eat mushrooms. Lets not forget that mushrooms also give you extra lives, and that to throw fire you need a flower. Eating mushrooms on Mario extends your current life, and gives you extra ones. There are people that like to make a connection to Mario eating magic mushrooms and being high a lot, but those people need to stop looking to much into things. Wait what? That's pretty much what I'm doing here right?
3. It has dinosaurs
People seem to think this is actually a dragon
Dinosaurs make anything cool. Anything. If he's actually a dragon, that's just as awesome, if not more so.
Cons:
1: Mario is a secret Communist (though actually I don't mind communism, I think it's just misunderstood, maybe I'll post about that sometime)
People actually believe this stuff
There are people who say that Mario is a secret communist. I don't know if they were being serious, I really hope they weren't, but I did once read something about this. Apprantly Mario bears a resemblance to Stalin. If you don't know who Stalin is, I'm not going to tell you. He also wears a lot of red. He fights against an established King (King Koopa) and does everything in his power to overthrow him, and replace him with the people, in Princess Peach. At the end of the early game levels he also tears down a peace flag, and replaces it with the red star of Russia. Or so people claim. Is Mario a secret communist? I don't know. Is he trying to subliminally recruit people to the communist regime? Not very likely.
2. He tried to brainwash kids, but not for communism.
I think there's a dirty joke in here somewhere
I don't know if he actually did try to get kids to clean up graffiti with the game Super Mario Sunshine, but again, it is something that people have said. But hey, people will say anything. The main point of this game is that there is an evil Mario called Shadow Mario who spray painted graffiti all over an island, and Mario got blamed for it. He was then ordered to clean up the mess while (surprise surprise) saving Peach from Shadow Mario. I bet he used the water for a cold shower.
3. He's not Hasidic as well as a plumber
He also doesn't have a beard like the Hasidic Plumber, but he does have a moustache
I think that's it actually, at least for now. Mario is an awesome game series though, that's for sure! Even if he is a communist, he's awesome enough to make up for it. His only major downside is all the "gimmick" games, but the same can be said of any series going on that long, such as Sonic. I do love Sonic, and I'll probably talk about him some time.